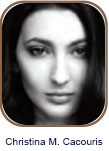 CHRISTINA M. CACOURIS
is a junior at New York University with a double major in journalism and art history. The Portland, OR native is an editorial assistant for an upcoming book on creative partnerships, has interned with The Sunday Times of London, Show Stu-dio and iD Online and has contributed to Rolling Stone, The Portland Mercury and The Wash- ington Square News. Christina is the daughter of Kathleen Cacouris of Portland, OR and Ted Cacouris of San Diego, CA. She is the granddaughter of Elias Cacouris of Athens, Greece and the late Mary Maravelli and Lucille Clarke of Fort Wayne, IN and the late Calvin Clarke.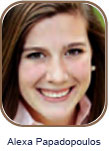 ALEXA PAPADOPOULOS
will start her senior year at University of North Carolina Chapel Hill this fall where she studies broadcast journalism an public policy. The Mooresville, NC native currently interns at the White House in the Office of Presidential Correspondence. She has also in- terned at Blue Sky PR and Bloomberg L.P., where she published over 75 stories. At school, she wrote for The Daily Tar Heel, worked on a committee for the school's Dance Marathon and was vice president of the Orthodox Christian Fellowship. Alexa is the daughter of Dan Papadopoulos and Elizabeth Hagaman of Mooresville, NC and the granddaughter of Peggy (Reece) Hagaman of Boone, NC and the late Hugh Hagaman and Lillian (Bikos) Papadopoulos of Nashua, NH and the late George Papadopoulos.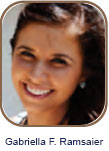 GABRIELLA F. RAMSAIER
will complete in 2017 an MA in digital communications & social media at Deree: The American College of Greece. The Fayette, GA native holds a BA from Clayton State University in interdisciplinary studies, with a minor in communications and media stud-ies. She reports from Greece for GreekAtlanta.com, has written for GrassRoots Media in London and is a digital communications and social medial representative for Orangetheory Fitness. Gabriella is the daughter of Maria Ramsaier of Fayetteville, GA and the late Edward Ramsaier and the granddaughter of Alexandra Tagalos of Atlanta, GA and the late George Tagalos and the late Fred and Frances Ramsaier of Brooklyn, NY.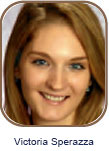 VICTORIA SPERAZZA
will complete an MA in emerging media studies at Boston University in 2016. A native of Astoria, NY, Victoria was a magna cum laude graduate of New York State University at Oneonta with a degree in mass communications. She has studied abroad at the University of Dublin and is a member of Lamda Pi Eta Honor Society. Her specialized studies concentrate on how new technology and social media are changing the ways in which people consume the news, with a particular interest in virtual reality and writing content for multimedia. Victoria is the daughter of Tom and Kiki (Panos) Sperazza of Astoria, NY and the grand-daughter of Peter and Angie Panos of Astoria, NY.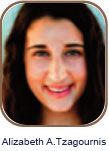 ELIZABETH A. TZAGOURNIS
is a junior at Ohio State working on a degree in public affairs journalism with minors in Spanish, business and media production. The Columbus, OH native has served as a production intern for NBC4 Daytime Columbus, a writer/reporter for The Lantern, The Odyssey and CityScene Media & Magazine and as a broadcaster for the live multicultural radio program CLLC Radio Spanish. She is also a member of Sigma Epsilon Pi. Elizabeth is the daughter of Adam and Shelley (Duros) Tzagournis of Columbus, OH and the granddaughter of Deno and Bess Duros and Charles Tzagournis, all of Columbus, OH, and the late Glenna Tzagournis.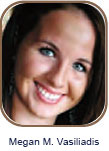 MEGAN M. VASILIADIS
earned a degree in editorial news journalism from the University of Illinois-Urbana Champaign this spring. A Chicago native, she has interned and contributed articles for The Chicago Tribune, written on Greek life for The Odyssey, served as a reporter for The Daily Illini and as communications and public affairs intern with Abbott and the Champaign County Chamber of Commerce. She is also a member of Alpha Omicron Pi Sorority. Megan is the daughter of John and Colleen (Jennings) Vasiliadis of Chicago, IL, the granddaughter of Peter Vasiliadis of Chicago, IL and the late Grace Vasiliadis and the late John and Marie Jennings of Chicago, IL.