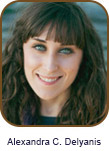 ALEXANDRA C. DELYANIS
is a senior at New York University pursuing a double major in journalism and French. The native of Tacoma, WA has served as an executive producer of The Run- down and Off the Record for WNYU-FM; host of Political Corrections on WNYU.org; editor in chief of 57 Insolite, NYU's Paris newspaper; interned at Saveur and Complex magazines, and is a regular contributor for Festival Peak. Alexandra's parents are Peter Delyanis of Tacoma, WA and Lianne Delya- nis of Kelso, WA.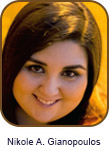 NIKOLE A. GIANOPOULOS
is a graduate student at Columbia University in the City of New York. The summa cum laude graduate holds a BS from University of West Georgia in mass communications, with a minor in marketing. She has served as news editor for The West Georgian, media relations coordinator for the WOLF Internet Radio, freelance writer for StarNews and as a student assistant for the university communications department. Nikole is the daughter of John and Misty Gianopoulos of Moreland, GA.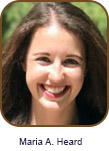 MARIA A. HERD
is pursu- ing a multi-platform mas- ter's degree program in journalism at the University of Maryland focusing on public affairs and investigative journalism. She is a graduate of Hamline University in St. Paul, MN, where she studied political science, German and international journalism. Maria completed college internships studying abroad in Berlin, Germany and in Washington D.C. Maria's parents are Mike and Cynthia Herd of Benicia, CA.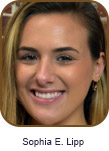 SOPHIA E. LIPP
is a junior pursuing a degree in journalism with a double concentration in political science and public relations at Boston University. Sophia has interned for Mass. Gov. Charlie Baker and Environment Massachusetts and has covered several large scale sporting events, red carpet premiers and other local happenings as a contributor to Boston University's newspaper, magazine and broadcast channel. She has also served as an editorial intern for Boston Magazine and worked in the mar- keting department of the Boston Red Sox. Sophia is the daughter of Robert and Nicole Lipp of Longmeadow, MA.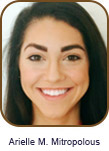 ARIELLE M. MITROPOULOS
is a junior at Wellesley College where she is pursuing a degree in political science, with a concentration in American politics and public policy, women and gender studies. Hoping to pursue a career in broad- cast political reporting, she has interned at Good Morning America, as a press and constituent services intern for Sen. Elizabeth Warren and for the Hillary for America campaign. During the 2016 Democratic National Convention, she worked backstage as a mem- ber of the Podium Operations team. Arielle is the daughter of Nick Mitropoulos of Cam- bridge, MA and Nayla Sahyoun of Wellesley.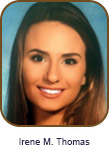 IRENE M. THOMAS
graduated with a degree in journalism and a minor in business from Stony Brook University. She recently began a position at WNYW Fox 5, where she is working on their weekday television newscast, Good Day New York. She has served as a contributing writer for The Southampton Press and The Long Island Pulse, staff writer and Arts and Entertainment Editor at Stony Brook's The Statesman and as a reporter, assignment editor, photographer and then producer for weekly newscasts at The Stony Brook News. Irene is the daughter of Stavros and Constandina Thomas of Woodbury, NY.